YOUR NORDIC DRINK SUPPLIER
Marbella · Malaga · COSTA DEL SOL
TASTE OF SCANDINAVIA
SAKU KULD
Saku Kuld (5,2%) is the finest beer of Estonia's oldest brewery. It is the cream of the crop when it comes to beers. Saku Kuld is a masterpiece that entwines two centuries of brewing traditions with the latest technology. In the taste of Saku Kuld is masterfully balanced the strength of Nordic barley malt and velvety smoothness of sunny German Hallertau aroma hops.
The purest taste of Kuld was achieved thanks to the German beer Purity Law Reinheitsgebot. New small 0,33L bottle keeps Saku Kuld fresh until the very last sip.
Saku Kuld - the cream of the beers
Available as well in cans (0.33l and 0.5l)
SAKU ORIGINAAL
Saku Original(4,7%) is a classic Estonian light beer with a crisp, richly-hoppy flavor, whose first brew in 1993 was a breakthrough event in the history of Estonian brewing. It can be safely said that Saku Original was the first Estonian quality beer, and its release set the bar high for all others in the field of Estonian beer-brewing. This pure-tasting light lager beer, brewed according to European standards of quality with the help of modern technology, quickly topped the list of most popular beers and remains one of the most consumed beers in Estonia to this day. Saku Original is brewed from clear ground water, barley malt, carefully picked hops and Saku's own brewer's yeast. The pleasantly hoppy and pure taste of Saku Original makes it a quickly drinkable quality beer that is perfect for enjoying with company and as an accompaniment to a nice meal.
The first Estonian quality beer.
Available as well in cans ((0.33l and 0.5l)
SAKU TUME
Saku Tume(6,7%) has a great dark colour and rich taste. It is Estonia's only strong dark beer and brewed for experienced beer lovers who can appreciate the fuller taste of dark beer. For the preparation of Saku Tume, in addition to pilsner malt, Munich and caramel malt, as well as burnt sugar is used. This gives the beer its special dark colour, unique sweet taste and a rich fragrance bouquet.
A characteristic of dark beer is that in order to get a better feel for its taste nuances, it has to be enjoyed at a slightly warmer temperature. Whereas the ideal serving temperature of light beer is considered to be 6-8 °C (straight from the fridge), then the ideal temperature for drinking Saku Tume is 11-15°C.
Genuine dark Estonian beer.
Available as well in cans (0.33l)
SAKU PORTER
Saku Porter(6,9%) is a unique, full-flavoured, strong, dark beer. It is brewed using caramel, light and coffee malts. Its roots date back several centuries – to Ireland and England, where the beer got its name from dockworkers whose favourite drink it was. The best way to enjoy Saku Porter would be in front of a fireplace or by candlelight during those long and dark winter nights. This beer keeps you warm through the coldest time of the year. Saku Porter has been the traditional crown of Christmas feasts and accompanied roast meat and game. The fact that porter is also perfectly suited for various desserts, especially those containing chocolate, may not be that commonly known.
Traditional Christmas beer.
SAKU ROCK
Rock(5,3%)is a beer with a tough character. It was first brewed in the spring of 1994 as a special edition beer for a music festival held that year. Nobody remembers much about the festival, but Rock is still alive. Good things always get noticed. Rock has character. Rock has power. Compared to other lager beers, Rock packs a stronger taste of hops, more punch and not a drop of mildness. A beer for true beer lovers who are not willing to make compromises. Fender Stratocaster or The Gibson Les Paul? A Mustang or a Challenger? Hard rock of the 70s or heavy-metal of the 80s? Kill 'Em All or The Black Album? A Chopper or a street fighter? The pen or the sword? Black or white? If you have thought about these things, you're ready - welcome to the world of Rock.
Available as well in cans (1 pint)
SAKU ANTVÄRK
Saku Antvärk Dark Lager is a dark lager-style beer, made special by the combination of various malts and hops (Tettnanger, Saaz and Zeus), which give the beer a soft texture, shiny brown colour and a rich, long-lasting, malt flavour. Saku Antvärk Citra IPA is an American-style IPA, in which only Citra hops are used. The result is an IPA that is rich in hops, easy to drink, and bursting with the freshness of tropical grains.
SAKU ON ICE
Summer is without doubt the best time of the year. But an Estonian summer is definitely the best kind of summer there is. Everyone spends this time differently and at their own pace. But no matter how it's spent, a true Estonian summer never goes without the particularly mild ice beer Saku On Ice. The secret behind this flavour is a special technology where the beer is cooled down to below zero temperatures after brewing. This is what creates the soft yet pleasantly fresh taste of Saku On Ice. Refreshing Citrus On Ice and invigorating Pomegranate On Ice are available along with classic Saku On Ice. This summer, in addition to the above, we are also offering some sour notes in the form of cranberry flavoured Saku On Ice! Lower alcohol content (4%) and a slightly sweet flavour make these exciting beers a good alternative to ciders and cocktails.
Available as well in cans (0.33l)
SAKU TAURUS
Saku Taurus(7%) is a genuine Bock type beer – a light coppery beer with a stronger than average taste of hops and high alcohol content. Traditionally Bock type strong beers have been brewed for important festivities, which call for dancing and partying. Taurus is a beer with a strong character that has a mild taste, but is as strong as a bull. A beer for real men that gives you power and quenches your thirst for life. The company of Taurus should only be enjoyed by experienced men. Men, who have pinched the buttocks of devil's grandmother, changed a truck's tire and can hold their own even in the toughest crowds. If you lack experience, you better watch out, because Taurus can easily outmatch you.
A strong bock beer for experienced beer lovers.
SAKU DUBLIN
The Cream of Dublin(4,2%) or Saku Dublin for short is brewed following the finest achievements of Irish master brewers. It is a low-alcohol, mild, dark beer. Exactly this type of beer with a creamy foam and sweet taste is served in pints in every self-respectable pub in Ireland and England.
Saku Dublin gets its Irish accent from light, caramel and roasted malt and aromatic hops. The carbon dioxide level of Dublin is lower than average just as it is with all Irish beers.
Cheers mates!
SAKU MANCHESTER
The Taste of Manchester(4,2%) or Saku Manchester for short is a classic slightly sweet light red beer brewed following the finest traditions of English brewmasters. In England this beer is called ale and every respectable traditional English pub has this type of mild red beer at the top of their beer menu.
Saku Manchester gets its English accent from light and caramel malt and aromatic hops that together make the beer sweeter and give it its red colour. Characteristic to English ale, Saku Manchester has a low carbon dioxide level.
Slightly sweet red beer with a strong English accent
SAKU MODU
Mead (Mõdu) (4,0%) is the king of all fermented drinks. The tradition of making it dates back to the beginning of civilisation. The legend goes that the infamous ambrosia so coveted by the rulers of Olympus was nothing more than mead. For Scandinavian people, the ancient mead contained the power of wisdom. The immense popularity of mead continued through the Middle Ages, when there was an abundance of this drink in the Royal courts, palaces of noblemen and monasteries. At the same time when simple people treated themselves with cheaper wine and beer, mead became a festive drink that accompanied the signing of international treaties and important events in the family. Mead is made for setting the mood on national holidays a well as mellow summer evenings. It is a drink designed for celebrating. Saku Mõdu is a traditional fermented drink with a taste of honey and an alcohol content of 4.0%.
IPA · KRIEK · BLOND BEERS
IPA, or India Pale Ale (5%) 0.5l was born in England in the 18th century when there was a need to send beer to British soldiers in India. The beer that was produced in Britain in those days would not have survived a six-month journey from Britain to India, so a special strong, heavily hopped beer was created. A. Le Coq IPA is a pale ale with strong hoppy flavour that has been brewed with Chinook, Amarillo, Cascade and Citra hops that add bitterness to the beer. A. Le Coq Kriek (4,5%) 0.5l is an ale that contains 15% of real cherry juice. In the brewing process we have used Hallertau Magnum hops and this beer has a nice sour cherry taste and a slight aroma of almonds. This beer was inspired by the well-known Belgian cherry beer Kriek. American Blonde Ale (5%) 0.5l has a rather short history – it was created in the US in the beginning of 1990ies when craft beers started to gain popularity. The initial aim of this beer type was to attract lager drinkers to craft beers. A. Le Coq Blond has been brewed with Tetnang, Tradition and Styrian Golding hops. The beer is slightly hazy with a straw colour and one can feel citrus undertones in its taste. Blond is a good alternative to hoppy beers.
A.LeCoq PREMIUM
A. Le Coq Premium (4,7%) 0,5l is a light yellow premium beer with dense bubbles. Its sweetish character is well balanced with the fresh bitterness of hops. Nuances of hops and bread can also be felt in the aroma of A. Le Coq Premium.
A.LeCoq IMPERIAL GOLD
Imperial Gold (4,8%) 0.4l is a premium lager with a rich and full-bodied taste. The valuable malt used in the beer, which comes from Scotland, gives it a deep golden colour and thick head. The taste and appearance of Imperial Gold are as worthy of the attention of crowned heads today as they ever were.
A.LeCoq IMPERIAL ALE
Imperial Ale (5%) 0.4l is a top-fermented beer with a rich flavour bouquet. There is a perfect balance between the delicious bitter taste of hops and the sweetness of malt. The copper colour that characterises the best ales adds a respectability indicative of its imperial past.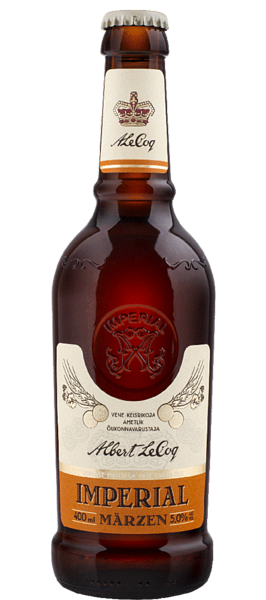 A.LeCoq IMPERIAL MARTZEN
Imperial Märzen (5%) 0.4l is an amber lager with a full taste, where the sweetness of malt dominates over the bitterness of hops. Märzen is characterised by a roasted aroma reminiscent of bread, as well as a malty essence and lasting head.
A.LeCoq PREMIUM NO ALCOHOL
A. Le Coq's new Premium (0%) 0.5l is produced using the latest technology, and unlike some of the other non-alcoholic drinks on the market, Premium 0.0% really is 100% alcohol-free. This is achieved using special vacuum technology that enables the alcohol to be completely separated from the beer without compromising on the taste of alcoholic beers.
A.LeCoq PREMIUM NIPPEL
A. Le Coq Premium Nippel (5,2%) is a special brew with a stronger taste of hops than the mild-tasting A. Le Coq Premium. It is filled into unique 0,25 litre screw cap bottles and is therefore targeted to consumers who want a small sip of beer every now and then.